The weather is heating up (at least in some places), which calls for a few more comfy, cozy, and cute summer plus size pajamas! While we have shared a few ideal pajamas to rock in the wintertime, what do we wear as the weather warms up?
If you run hot while you sleep, don't like to be bothered with too much clothing, or want something that could take you from bed to the couch, I think we have found a few summer plus size pajamas for the summer, for you to play in.
Yes, we have found 20 summer plus size pajamas to live and sleep in. A bit more functional than the plus size loungewear finds we've shared!  We have found a cheeky, cute, bold, and playful few- at varying prices and size ranges!
So, start scrolling and shop your heart out… You are welcome!
20 Summer Plus Size Pajamas You'll Love!
Photo Credit: lanebryant.com
"Ready. Set. Sexy. The cami and short set with eyelash lace is a match made in sleepover heaven."
Up thorugh a size 38/40.
"Snuggle up with your sweetie in this flirty plus size knit teddy featuring a soft V-neckline, thick shoulder straps with a ruffled trim, a comfortable ribbed bodice, a scoop back, and a thong cut back."

Up through a 3X
Photo Credit: Anthropologie.com
"You can't beat the comfort of a sleek satin loungewear set! This lace-trim two-piece cami and shorts set lets you look your best while remaining cozy at all times."

Up though a 28/30
"Keep your sleep style fun and refreshing with the Spot Sleep Set. With a polka dot print tee and relaxed mini shorts, you'll never want to take off this sleepwear set."
Up to a size 30/32
Photo Credit: ashleystewart.com
"Chic morning, noon & night, you're going to love the comfort and cuteness of our Cozy Couture pajama three piece set including a sassy camisole, leopard print shorts and a matching robe."
Up to a size 3x.
Photo Credit: savagex.com
"Let your true colors shine! The I Dare Hue Mesh Sleep Tank features a sheer mesh body, scoop neckline, and two-tone racerback."

Up to a size 4X.
Photo Credit: universalstandard.com
"We made this fan-favorite sleep set in our light-as-air UltimateS fabric. Meet the softer and more sustainable sleep set of your dreams. The slinky v-neck cami and cloudlike shorts feature a sweet tulip overlap detail."
Up to a size 34/36 (4X)
Photo Credit: www.target.com
"Update your sleepwear closet with this 3-Piece Notch Collar and Shorts Pajama Set from Stars Above™. The pajama set comes with a notch-collar button-down shirt with chest pocket, along with a pair of pull-on shorts and eye mask making for a classically chic sleepwear look."
Up to a 4X.
Photo Credit: prettylittlething.us
"We are obsessed with this PJ set as the new addition to your sleepwear collection. Featuring a cami top with thin shoulder straps and a frilled design with matching elasticated shorts, both in a black satin material."
Up through a 26.
Photo Credit: lanebryant.com
"An electric hue and feminine embroidery make this set a sexy must-have."
Up through a size 30/32
Photo Credit: anthropologie.com
Photo Credit: savagex.com
"Laidback, but always ready to stunt. Our Rib Xssentials Romper has a relaxed fit and features a V-neck silhouette and adjustable straps."
Up to a 4X.
Photo Credit: lanebryant.com
"A staple for coordinated lounge looks, this pair of shorts comes in sleek neutral shades and comfy rib. Plus, the cinched-sides are an extra sexy wink."
Up to a 28
"The Bright Days 3 Piece Sleep Set makes your nights and late mornings special! With its charming graphic print front, scoop neckline and Cotton blend fabrication, feel this sleep set hugging your curves like a dream!"
Up to a size 36.
Photo Credit: prettylittlething.us
"Give your PJ collection a dreamy update with this set. Featuring a button-up shirt with pocket detailing and elasticated shorts, both in a satin pink material with all over unicorn print."
Up to a size 26.
Photo Credit: savagex.com
"Always lowkey and forever unbothered in our Rib Sleep Short, featuring a mid-rise elastic waistband, side slit details, and an Xclusive logo drawstring."
Up to a size 4X.
Didn't we find some good ones? As getting a good night's sleep is a huge form of self-care, we wanted to make sure we had all the tools you need!
Here are 5 tips for shopping for summer plus size pajamas:
Choose breathable fabrics. The most important factor in choosing summer pajamas is the fabric. Look for lightweight, breathable fabrics like cotton, linen, bamboo, or Tencel. These fabrics will help you stay cool and comfortable all night long.
Avoid synthetic fabrics. Synthetic fabrics like polyester and nylon can trap heat, making you feel hot and uncomfortable. Instead, opt for natural fibers that will breathe and wick away moisture.
Consider the cut of the pajamas. Loose-fitting pajamas will help you stay cooler than tight-fitting pajamas. Look for pajamas with a relaxed fit that will allow your skin to breathe.
Pay attention to the details. Look for pajamas with features that will help you stay cool, such as openwork designs, short sleeves, or a light fabric lining.
Choose colors that will keep you cool. Light colors reflect heat, while dark colors absorb heat. Choose light-colored pajamas in white, cream, or pastels to help you stay cool.
Were those tips helpful? Better yet, here are some additional tips to keep in mind when shopping for summer plus size pajamas (or shopping in general!):
Consider your budget. Pajamas can range in price from a few dollars to hundreds of dollars. Set a budget before you start shopping so you don't overspend.
Shop around. There are many different places to buy summer pajamas, including department stores, online retailers, and specialty sleepwear stores. Compare prices and styles before you make a purchase.
Try on pajamas before you buy them. It's important to try on pajamas before you buy them to make sure they fit well and are comfortable. Or at least pay attention if those plus size pajamas are returnable!
I hope these tips help you find the perfect pair of summer pajamas!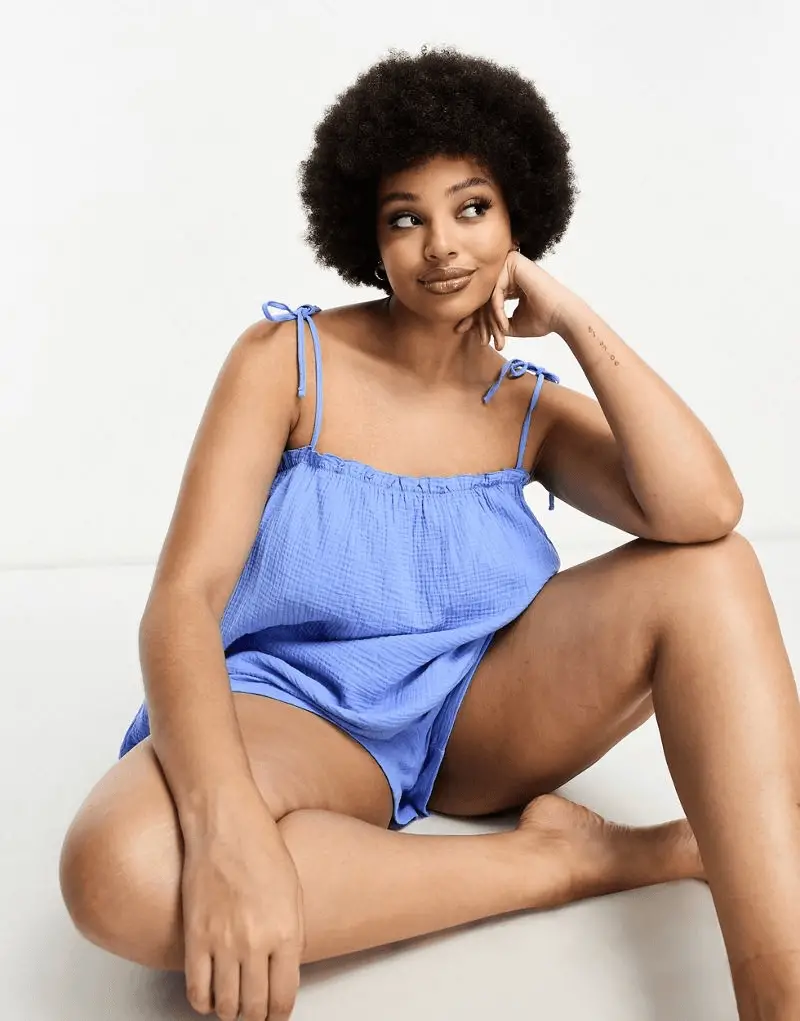 While some of you may chose to not wear pjs and opt for the birthday suit, if you have been looking for more, we found it. And even if these picks did not suit you, make sure to peruse the brands' sites, as there may be styles and colorways that suit you better!
It is truly about making the most of your sleep life, right? Asides from having the perfect plus size mattress, cooling sheets, and pillows, what you wear plays a part, too!
Did we introduce you to a few new sleep finds?
So, after you have showered and have completed your face wash regimen, make sure you slip into your new summer plus size pajamas that will keep you cool and cute!
What do you find yourself sleeping in, for the warmer summer nights?