Press Play is a recurring column that looks at (and listens to) the songs that have shaped the life and work of beloved musical artists.
---
Growing up in rural Germany, Kim Petras would watch her sisters and friends receive communion at church, feeling excluded but also conflicted. "As someone who's been transgender my whole life, I never fit into [organized] religion," she says. "I had a lot of religious friends, and I would go to their First Communion and things like that, but I was never really accepted into that world because who I am opposes what is acceptable in religion." She feels lucky to have parents who never forced her to conform, "but everybody else had a chance to be religious, and I never did. So for me, it's been a lifelong struggle to find spirituality in other ways."
Like many, Petras turned to music, writing countless songs in her bedroom, and eventually selling a jingle to a laundry detergent company in her teens. Not too long after, the now-30-year-old moved to L.A. and began releasing music through her own imprint, BunHead, slowly building a legion of fans, charmed by her over-the-top, sex-positive pop. Last summer, she signed to Republic Records, and this past September, "Unholy," a collaboration with Sam Smith that explores themes of adultery and eroticism, shot to the top of Billboard's Hot 100 chart, and made Kim Petras a household name.
This content is imported from youTube. You may be able to find the same content in another format, or you may be able to find more information, at their web site.
"'Unholy' has been such a blessing and kind of a freaky accident of a song that just blew up," Petras says. "It's my first number one and Sam's first number one, and it's just really awesome when people like your song, but when you hear it at, like, McDonald's—there's nothing better."
More From ELLE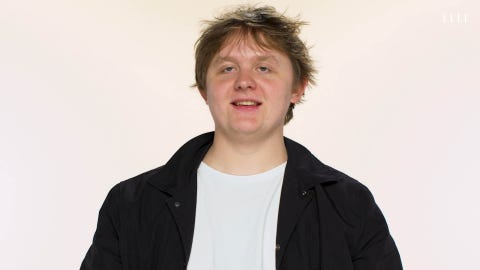 On the heels of that success comes Petras' latest single, "If Jesus Was a Rockstar," produced by legendary hitmaker Max Martin ("…Baby One More Time," "Blank Space"). "There's a narrative [thread] from "Unholy" to "If Jesus Was a Rock Star," Petras explains, "but the new song is about how if religion accepted everyone, then maybe I would've been a religious person. I just never had the chance."
This content is imported from youTube. You may be able to find the same content in another format, or you may be able to find more information, at their web site.
While the two tracks form a cohesive statement, they mark somewhat of a departure for the pop artist, both subject-matter-wise and sonically. "It's the first time I'm not being a caricature version of myself, like in Slut Pop or Turn Off the Light," she says of the guitar-driven single. "I'm just sharing my real opinion and how I feel in the world as a person."
Petras cites frustrations over recent anti-abortion laws and trans discrimination as the inspiration for this creative divergence. "I didn't want to escape in my song and sing about parties and fashion and glam," she says. "I wanted to write a song that is meaningful for me as a person in this time." Below, she shares the music that has held a similar place in her heart from childhood to today.
YOUR FIRST CONCERT
"I saw P!nk in Germany. I love P!nk, and especially Misunderstood—that album helped shape my life. I definitely cried when she did 'Just Like a Pill,' even though I was a kid and had no idea what that song means [laughs]."
SONG THAT DEFINES YOUR YOUTH
"'Believe,' by Cher. She was just such an inspiration, especially as a dorky trans girl in school. Cher was so glam and kind of like an alien. Cher is someone who has always given me hope that being different and being kind of a lot—I used to pull up at school in the craziest outfits and get made fun of—was OK. Fashion's always been such a necessary expression for me. It really felt like, 'I need to wear this, or I'm gonna die.' I would go to school in tutus and latex dresses and whatever I found that felt like a true expression of myself. And I feel like Cher, especially with 'Believe,' has been a constant reminder that you can be yourself, whatever that looks like."
SONG THAT DEFINES YOUR EARLY ADULTHOOD
"'We Found Love,' by Rihanna was such a massive part of my growing up. I was like, 'Yeah, that's what I want. I want to be completely in love with someone, even though it's messy and not good for me and all that.' I remember playing it over and over and over. And I still have days where I just play that song over and over. I just love it."
SONG THAT FEELS LIKE A RELIGIOUS EXPERIENCE
"'Like a Prayer,' by Madonna. It's so crazy what that song does to me still. I'll never get over that magic feeling. I get so mad when anyone talks shit about Madonna. The doors she's busted open—I think there's no way I could be doing what I do had Madonna not existed. I think no matter what age you are, that if you make art, your art deserves to be judged fairly, instead of people saying, 'Oh, you're old so you don't matter.' It's so stupid. Madonna's still here, and still doing what she's doing. I'm such a stan. She's my queen."
SONG THAT REMINDS YOU OF YOUR FIRST LOVE
"Nicki Minaj's 'Your Love.' I think she's one of the greatest lyricists of all time, and that song never fails to hit. It reminds me of making out with my first boyfriend, smoking cigarettes in the school parking lot, without our parents knowing, the smell of leather jackets and car seats. Hot."
SONG OR ALBUM THAT HAS GOTTEN YOU THROUGH A BREAKUP
"Lana Del Rey's Born to Die is a very, very important piece of work, top to bottom. That album created a world that was so meaningful, especially for me as a trans girl, but also I think to women and girls in general. She was so vulnerable and honest about her pain and not afraid to be like, 'I feel like nothing without you.' I love that about her, that her vulnerability is almost like her weapon, that it's a strength rather than a weakness. I was just like, 'Okay, someone else feels like they're nothing without someone else' [laughs]. That album is a breakup classic. Especially 'Blue Jeans.'"
SONG THAT ALWAYS MAKES YOU CRY
"I got really emotional in London at Sam Smith's show. Sam played 'Nirvana,' and it's such a special song, just so stunning. Hearing it live was really magical. It's the first song I heard by Sam, and now, being friends, it still hits so hard."
SONG THAT MAKES YOU FEEL INVINCIBLE
"'Diva'" by Beyonce—'diva is a female version of a hustla!'"
FAVORITE SONG YOU WROTE
"'If U Think About Me.' It's a deep cut, but I remember I wrote that in my mom's basement in Germany, and it was the first time I did the "ooh ah," which has become my signature thing."
This content is imported from youTube. You may be able to find the same content in another format, or you may be able to find more information, at their web site.
SONG YOU WISH YOU WROTE
"'Underneath it All' by No Doubt. I love that song—it's so good!"
SONG YOU'VE HAD ON REPEAT THIS YEAR
"'King,' by Florence and the Machine. That really got me through this year. I had a pretty bad breakup in the beginning of the year. So Florence, man—just another breakup classic."
SONG YOU'VE HAD ON REPEAT FOR AS LONG AS YOU CAN REMEMBER
"'Running Up That Hill' by Kate Bush is such a special one. If you are from Europe, it's a classic hot AC song that you hear all the time. It's so crazy that it just blew up in America recently. I have so many childhood memories of that song. My mom loved that song—everybody knew it. So yeah, I covered it before it blew up. I just want to set that straight [laughs]. I love my version, but nothing will ever beat the original. That song is so meaningful, especially for women or any community that's not, you know, straight guys. It's a song about wanting to be equal and wanting to understand why you're not equal—just the most stunning song ever."
This content is imported from youTube. You may be able to find the same content in another format, or you may be able to find more information, at their web site.
MOST INSPIRING SONG BY AN ESTABLISHED MUSICIAN (NOT ALREADY MENTIONED)
"I've recently become obsessed again with Kylie Minogue's 'Come Into My World,' and, obviously, 'Here You Come Again' by Dolly Parton."
NEW ARTISTS YOU HAVE YOUR EYE ON
Shygirl and Ethel Cain—I'm a big fan of both. 'BB' by Shygirl—that song is an absolute hit. And 'American Teenager' by Ethel Cain. So good!
Melissa Giannini is the features director of ELLE.